Lambda Labs CX-1A datasheet
CX-1A images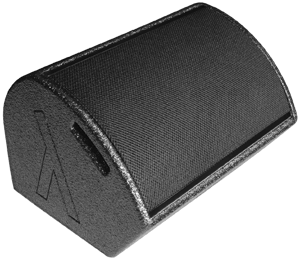 CX-1A description
CX-1A – An all-round success

We certainly do many things. But if there is one thing we don't do, it is subordinating acoustics to the loudspeaker look. An unwritten law that makes our work easier by no means. Finally the product should not only satisfy the ears but also the eyes. Regarding the CX-1, one could be fancy that we indeed might have turned a blind eye to let the distinctive look take the precedence. You can put your mind at rest. Our engineers would rather seal their ears.

In actual fact the CX-1 monitor combines attractive design, functionality and technical innovation in a revolutionary way down-the-line. Therefore the round body isn't just a guarantor for a most compact enclosure, ergonomic design and handling as well as inconspicuous elegance, but the result of excellent developmental work optimizing standing wave suppression achieving excellent sound and precise resolution of this true point source. And this one even goes really loud. The according requirements are provided by a sophisticatedly developed coaxial source consisting of a perfectly tuned 8" long excursion driver and a special high frequency unit with aluminium membrane all driven in bi-amped mode.

Its power demand is fed by two integrated DSP amplifying modules with 800 and 200 Watt RMS each. The one who's that rich, should be able to share we thought, and therefore we enhanced the social preparedness of the CX-1A: Each CX-1A version can be connected in parallel with up to two CX-1B versions, what simplifies a complex setup with multiple CX-1 speakers immensely, accelerates the cabling heavily while an investment gets more economic.

Who might think yet, keeping a bigger speaker in sight, errs: With its 37.6 cm length and a weight of 8.4 kg the CX-1 definitely counts to the bonsais among monitors and accommodates truly everywhere. But what is meant by monitor. By pushing the DSP preselector button, the CX-1 morphs to a full top with all its rigging options and its EPS rigging hardware in a second. Whether fullrange mode with an impressive low corner frequency, or with MF-15A subwoofer support, it's up to your choice. As already mentioned. An all-round success.
CX-1A downloads