Lambda Labs CX-2A datasheet
CX-2A images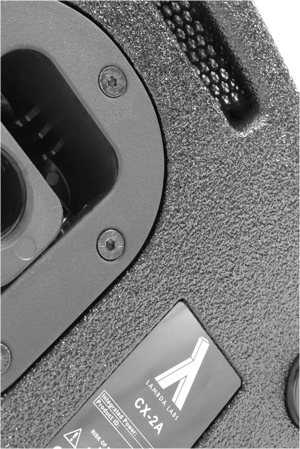 CX-2A description
To the point – Coaxial compact

You may have already noticed, or you have read it perhaps somewhere else. Lambda Labs' maxims do not pursue toward the development of a vast number of products, but rather to put value into crafting professional tools and bringing product lines to a point. In this process we focus heavily on extensive mechanical and acoustical flexibility, which is why we have created the CX-2A.

The active coaxial 12" loudspeaker CX-2A extends the CX range as an extremely compact high-end monitor with excellent resolution, proper low end reproduction, and very high SPL capabilities with maximum gain before feedback. Its sound, like that of the CX-1A and CX-3A, is perceived by our customers to be surprisingly 'open' and 'relaxed', an impression that is sustained well up to the limits of this bi-amped 1000 Watts RMS powered loudspeaker.

Sized efficiently at 47,7 x 43,7 x 36,8 cm the point source's axialsymmetric dispersion of 75°x75° fits perfectly in between its CX counterparts and can be employed on stage in both nearfield and farfield positions at angles of 35° and 58° respectively. Due to the low 65Hz cutoff frequency and the use of a non-compromise 12" heavy duty driver, the CX-2A is able to displace the CX-1A, whenever there is a demand for yet increased levels with loads of low frequency content, a versatile crossover point at 100Hz, or simply massive punch paired with space saving unobtrusive design. The CX-3A, the big brother in the same line, featuring a unique beryllium high frequency unit, gears it up one further notch also even in the low frequency performance.

Like all active Lambda Labs loudspeakers, the CX-2A is precisely equalized using FIR filters, thus guaranteeing a linear-phase music reproduction down to 200Hz! A really unique feature on the market for active loudspeakers. This way we can achieve such sonic purity, that even the smallest details or errors of the music material or a playback device can be easily heard in critical listening tests – leading to surprises many times. Add to this a rigorous comprehension of the off axis frequency response and what you get is an extraordinary high feedback immunity.

With the use of the preset button, the CX-2A can be altered into 4 different modes of operation from a versatile stage monitor into stand alone box or into a flyable PA system with integrated EPS rigging system and optional subwoofers. The 2mm front grille provides robust crush resistance and is visually appealing covered with our own special acoustically transparent fabric, which helps keeping undesirable small parts outside.

Bring your sound to the point. With an exclamation mark!
CX-2A downloads