Lambda Labs MF-15 datasheet
MF-15 images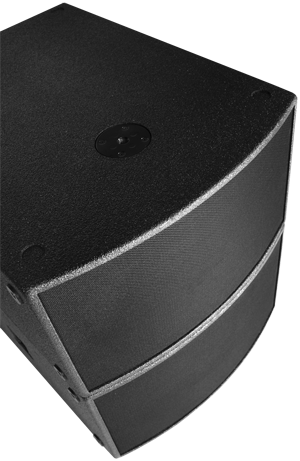 MF-15 description
MF-15 – The flexible basement

After all, we've repeatedly mentioned the wolf in the mink fur coat. But its look is elegant appearance and camouflage at the same time. At first the small dimensions and the effortless lightweight just reveal the extraordinary good handling of this freely scalable high-power subwoofer, but let its flexibility and far-reaching combination possibilities only be divined. Once plugged, the Mf-15 reveals its first class inner values: A progressive subwoofer system with astonishing low-frequency performance and finest resolution. And this over the full bandwidth. Means entirely without any additional sub lows and other heavy equipment. The 15" ultra long excursion armament with the especially crafted membrane is highly loadable and ensures a gigantic output with its ±16mm linear excursion capability. Fully free of mechanical powercompression, and due to the sophisticatedly developed exponential structure of the Manifold, moreover with a maximum of efficiency. And this far over 2 octaves.

The operation of the MF-15 is recommended with an amping power of 1600W RMS. With its numerous installation variants, the compact MF-15 construction fits in any trunk and even beneath the smallest stage, but still rivals "the big ones" and excels in the creation of complex arrays and intentional directivity. On stage, the design convinces as precise drum fill or flown low-range bass extension. The standard stand just underlines the flexible application possibilities. Sounds good, right? And the old hands of the sector agree with that, while we educe some guce bumbs to them every now and again. If this is caused by the MF-15 itself or by the whole system of course is difficult to figure out...
MF-15 downloads